Law Office of Michael F. Roe's Illinois Divorce Law Blog has once again, for 2014, been named a "Top 50 Divorce Law Blog" by Criminal Justice Degrees Schools, which annually analyzes and rates professional blogs.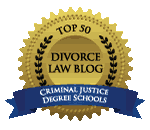 My approach to the blog is to inform my clients and readers of the blog, to educate other professionals in the field, and to illuminate important issues in divorce and custody. Some of these important issues include issues that arise in complex custody cases, cases with high conflict issues, and critical issues in some cases, like Parental Alienation or new legislation that affects financial issues in divorce.
The blog journals many compelling issues, but if you have questions or concerns about your impending divorce case, contact our office so that we can meet and discuss the details of your family concerns, and develop a strategy to manage these issues toward a positive outcome.