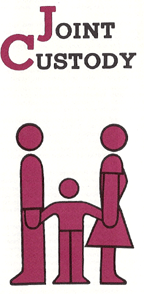 I receive calls from parents contemplating divorce in Kane County and DuPage County about joint custody in Illinois. Many good parents tell me that "I just want joint custody," though many times I feel that people do not understand what joint custody means in Illinois.
In general, Illinois Joint Custody means that the parents agree to make major decisions regarding the child or children together, such decisions as schooling, medical care, and religious practices. In Illinois, the concept of statutory joint custody does not address, at all, the idea that the parents will share the parenting time with the children.
As I have written before, Illinois still has an archaic, and in my view, unfair approach to custody. Unlike other states that have adopted "presumptive shared parenting," Illinois still requires that the Court determine a "residential parent" and a parent that has "visitation." Most often, Mom becomes the residential parent, and Dad is relegated to the status of a "visitor" of his own children. Illinois still allows for the stress, financial hardship, and animosity that is engendered by forcing good parents to contest each other for the role of "primary residential parent."
My goal in representing both Moms and Dads in custody cases is to engineer a Parenting Plan result that best suits the individual parenting styles and family system dynamics of each family. In many cases, a creative solution can be devised that allows both good, healthy parents to have an equitable role in the developmental lives of their children. In those cases where the fitness of a parent is at issue, it is necessary to devise a unique strategy that may involve clinical intervention, so that the developmental safety of the children is best addressed.