Many clients that come to my office have issues with a spouse with traits of a personality disorder. These traits create many challenges for the relationship, and the family, and in the context of divorce, the case can end up being what is called a "high conflict case." For many years, I have focused my practice, in part, on these cases involving psychological issues as well as high conflict cases.  Rarely do I find a good, understandable explanation in the public domain of what a narcissistic personality is, how they present, and the impacts that these traits and disorders have on family members.  This podcast that I found today is excellent.

" Today we have the pleasure of speaking with a true expert on many of the topics we've exploring during our series on "Who Am I?", including borderline personality disorder, sociopathy, and narcissism: Dr. Ramani Durvasula.

Dr. Ramani is a licensed clinical psychologist, author, and expert on the impact of toxic narcissism.  She is a Professor of Psychology at California State University, Los Angeles, and also a Visiting Professor at the University of Johannesburg.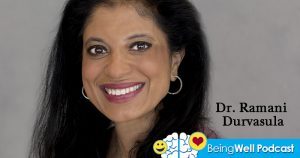 She has been featured on, and even hosted, programing on Bravo, the Lifetime Network, National Geographic, the History Channel, and Oxygen. And she's also been a featured commentator on nearly every major television network, as well as radio, print, and internet media.

She is the author of Should I Stay or Should I Go: Surviving a Relationship With a Narcissist, and her new book, DON'T YOU KNOW WHO I AM? How to Stay Sane in an Era of Narcissism, Entitlement and Incivility will be coming out October 1st.

Today we explored a range of topics with Dr. Ramani including:

What distinguishes true NPD from someone just "being a jerk."
Techniques for interacting with "10% narcissists" more effectively.
The importance of drawing clear boundaries.
The different places narcissism can come from, and the different ways we can interact with different kinds of narcissists.
Working with narcissism inside of our cultural framework."
Being Well Podcast: How to Deal with a Narcissist with Ramani Durvasula